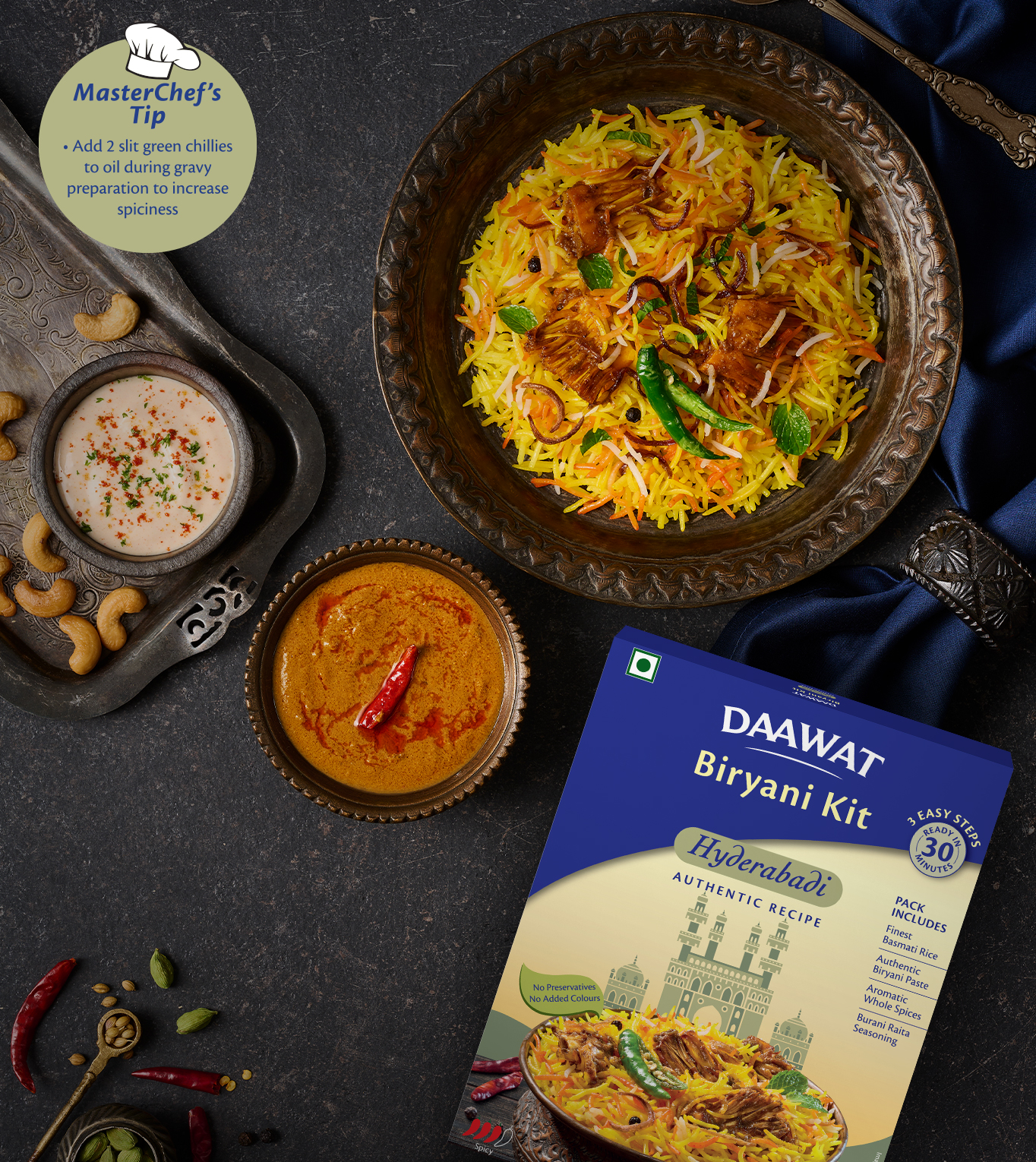 3 Easy Steps For Authentic Hyderabadi Biryani

Pre-Preparation:
Rice: Wash and soak the given rice for 30 minutes
Vegetables /Chicken/Mutton: 300 grams
Fry onion: Heat oil and shallow fry two medium-sized sliced onions to golden brown
Fresh coriander leaves and mint leaves
Add given Raita Masala to 300g whisked curd, mix and keep it in the refrigerator to chill.

Step 1: Cooking Rice
Boil 1 liter of water with 1tbsp salt, 1tbsp of oil, and given whole spices. Add rice to boiling water, and let it boil for 6-7 minutes till rice is 75% (3/4th) cooked. Drain the water and keep the cooked rice aside.
Tip: While adding whole spices to the rice, you can use a muslin cloth to tie up all the spices for easy removal.

Step 2: Biryani Gravy Preparation
Heat 2-3 tbsp of oil in a pan, add veg/chicken/mutton, and sauté it. Add Biryani Paste to it and sauté for a few minutes, and then add 150 ml water to cook till it gets tender and the oil separates.
Tip: Gravy prepared should not be dry.

Step 3: Layer & Dum Cook
Layer half quantity of the biryani gravy preparation, then half quantity of cooked rice and garnish with fried onion, mint, and coriander leaves. Repeat this layering. Cover and cook on dum (low heat) for 7-10 minutes until rice is cooked.
SERVE HOT BIRYANI WITH CHILLED RAITA